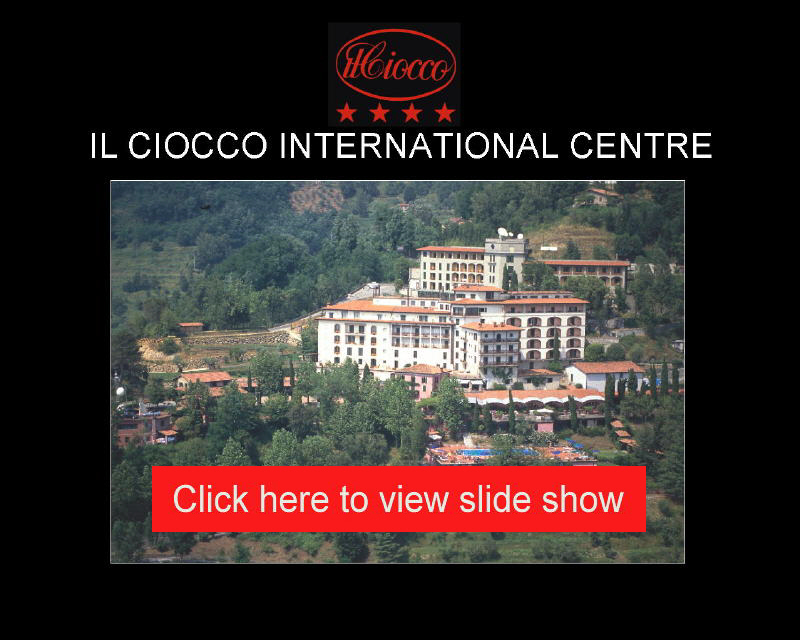 Il Ciocco
Tuscany (Italy)
In the Tuscany, within a distance of 60 kms from Pisa and 100 kms from Florence, the modern International Hotel and Conference Center IL CIOCCO is situated in a private estate of a two thousand acre woodland at 500 m above sea level, overlooking the beautiful Serchio Valley and facing the Apuane Mountains. The complex stretches out over an entire hillside inviting its visitors to extended walks, horseriding, jogging etc. A perfect calm and relaxed atmosphere combined with modern comfort and the renowned Tuscany cooking will ensure a successful meeting.
AVAILABILITY:
All year round
ACCOMMODATION
187 large size rooms with bathroom of which 16 are small suites, 8 junior suites and 1 presidential suite.
The majority of the rooms have balconies overlooking the majestic Serchio Valley. The rooms are all equipped with air conditioning, direct dial telephone, TV and refrigerator bar.
RESTAURANTS
There are two restaurants where either local Italian and international food can be served at the choice of the meeting organiser.
CONFERENCE PACKAGES
Full board including wine with the meals, and coffee breaks and on-site conference facilities. There is no extra charge for the transfer from and to Pisa International airport before and after the meeting.
CONFERENCE FACILITIES
CONFERENCE ROOMS
1 auditorium for 850 persons which can be divided into smaller rooms.
24 meeting rooms of variable size for small working roups.
1 congress hall for 350 persons
1 "Chess Room" for 250 persons.

AUDIO-VISUAL EQUIPMENT
Overhead projector, slide projector, tape recorders, black boards, microphones with sound amplification, and simultaneous translation facilities.
On-site conference facilities are included in the package price!
Private TV station covering most of Italy (TV studios, TV equipment and professional personnel).

SECRETARIAT
The key staff speaks English, French and German
Equipment: Photocopier, typewriters and telefax.
FACILITIES
Bazaar, laundry, newspapers, travel agency services and hairdresser (on request)

FIRST AID
Resident doctor in June, July and August (Hospital at 4km distance)

ENTERTAINMENT

SPORTS
Swimmingpool, sauna, tennis courts, Italian bowls, Ping-pong tables, billiard, roller skating, soccer

LEISURE
Cinema, electronic games, piano bar, discotheque

EXCURSIONS
Florence, Pisa, Assisi, Rome etc.
TRANSPORTATION
BY AIR: Pisa or Florence airport
BY CAR: 39 km north of Lucca (see map)


Bookings for Meetings


Further information can be obtained from the conference hotel directly: ...