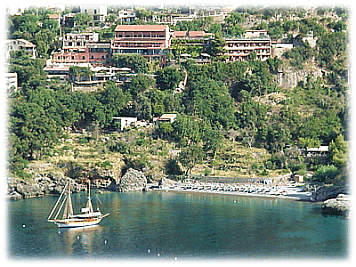 MARATEA
Hotel VILLA DEL MARE
Acquafredda di Maratea (Italy)
Situated between Campania and Calabria, and overlooking the Golf of Policastro, Maratea dominates the slopes of Monte San Biagio - 20 kilometers of the most beautiful part of Southern Italy's coast line - the Lucanian Coast - south of Naples.
Here, set in between rocks and sand, pine trees and holm-oaks, the hotel Villa del Mare invites you to enjoy its friendly ambiance and relaxing atmosphere, providing at the same time all the modern comfort necessary to ensure a successful meeting.
AVAILABILITY:
JANUARY - JUNE
SEPTEMBER - DECEMBER
ACCOMMODATION

CAPACITY
75 rooms, all equipped with bathroom, telephone and air-conditioning
21 rooms have a small lounge with colour TV
The majority of the rooms have balconies with sea view.

MAXIMUM CAPACITY:
The hotel can accommodate a maximum of 150 persons

INDIVIDUAL OCCUPANCY:
65 persons
CONFERENCE PACKAGES
Full board including wine with the meals, coffee breaks and on-site conference facilities.
Pick-up service

CONFERENCE FACILITIES

CONFERENCE ROOMS
Rooms seating from 20 to 300 persons

AUDIO-VISUAL EQUIPMENT
Overhead projector, slide projector and black boards
Microphones with sound amplification, tape recorders and 16 mm film projector upon request.
On-site conference facilities are included in the package price!

SECRETARIAT
The key staff at the hotel is bilingual.
Equipment available: Photocopier, typewriters and telefax.
OTHER FACILITIES
Daily mail service, Italian newspapers, bank service, travel agency, car rental, minibus service, pick-up at railway station

FIRST AID
Doctor in town; hospital at 7km distance

OTHER
Banco di Napoli
Banco di Luciana at Maratea center
Typical local style restaurants and night-clubs at Acquafredda di Maratea and in other 4 villages nearby

ENTERTAINMENT

SPORTS
Privat beach, swimmingpool, billiards.
Tennis courts at approximately 500m.

LEISURE
Cinema, discotheque and 2 American bars

EXCURSIONS
Paestum, Pompeii, Vesuvio, boat trips to the islands
TRANSPORTATION

BY AIR: Rome or Naples International airports
BY TRAIN: "RAPIDO" (fast train) from Rome (approximately 4 hours) and from Naples (approximately 2 hours)
[ PHOTOS of hotel and surroundings ]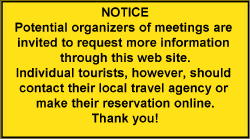 Further information can be obtained from the conference hotel directly: ...